14-07-2015
Munckhof nominated for 2015 Best Employer
On 14 July 2015 it was announced that Munckhof has been nominated for 2015 Best Employer.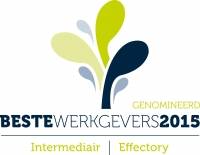 Munckhof is one of 50 nominees in the category of companies with fewer than 1000 employees. The Best Employers Study, who came up with the nominees, is known as the largest and most reliable study in the Netherlands.
Best Employers Study
The Best Employers Study was created in order to provide an objective evaluation of employers in the Netherlands. This year, 314,218 employees evaluated their employers. All of the participating organizations had their employees complete a tailored employee survey or quick-scan taken. The ranking amongst the top 50 organizations was determined by the Best Employers Score.
Best Employers Score
In each study, six questions were included which give an indication of how well an organization allows its employees to perform at an optimal level. This Best Employers Score is comprised of an average score from the combined scores in organizational satisfaction, work satisfaction, pride in the organization, standing behind the goals of the organization, receiving enough opportunity to optimally achieve, and level of appreciation.
The competition's organizers, the consultancy agency Effectory and the employment agency Intermediair, will announce the winners in Amsterdam on Tuesday 6 October 2015. More information can be found at www.beste-werkgevers.nl